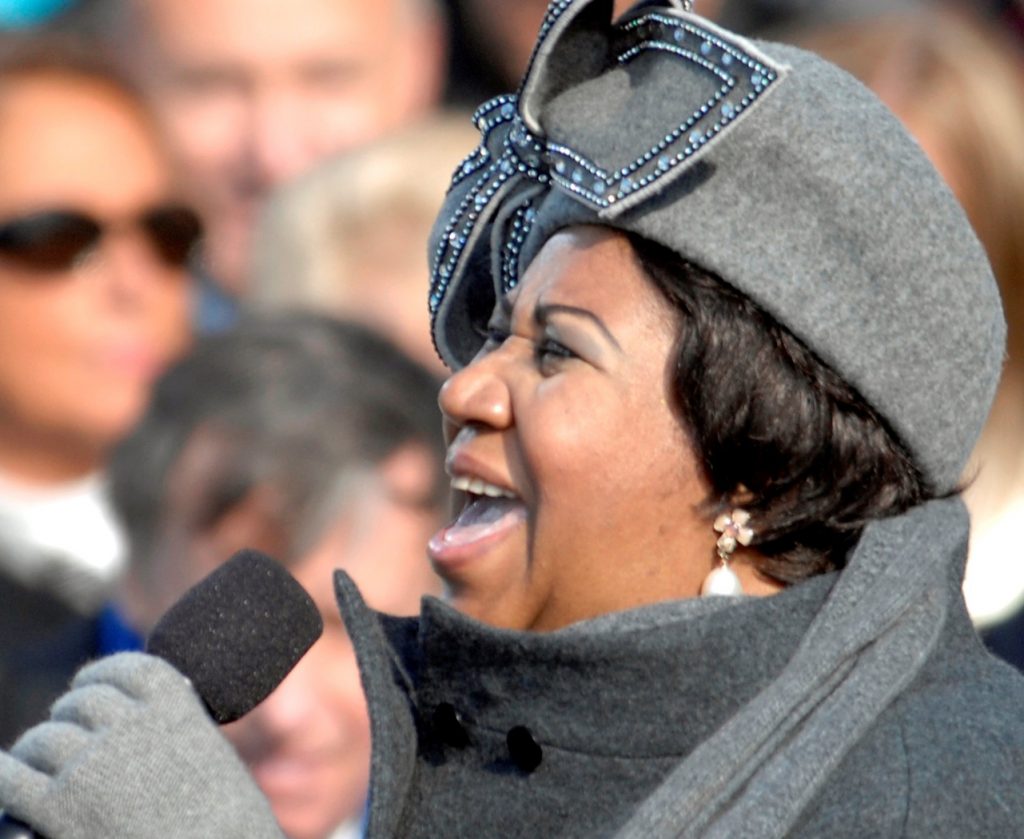 Aretha Franklin, who soared to unchartered heights of soul and pop music stardom without ever straying too far from the Detroit gospel roots which first elevated her otherworldly voice, died of pancreatic cancer today. She was 76.
Franklin had been in hospice care at her home, CNN reported on Tuesday, following initial Showbiz 411reports that the vocalist had fallen gravely ill. Reports of the beloved and private artist's declining health had begun to surface more frequently over the years.
Dubbed the "Queen of Soul" in the 1960s, 18-time-Grammy winner Franklin would go on to turn in history-making performance after performance over more than six decades—reminding those who grew up with her just why she is literal royalty among artists and also introducing new generations to her mastery.
Franklin Learned Piano By Ear at an Early Age 
Born Aretha Louis Franklin in Memphis, Tennessee, on March 25, 1942, she began singing at an early age at New Bethel Baptist Church in Detroit, Michigan.
Her father, Clarence L. "C.L." Franklin, served as minister there at the church. Her mother, Barbara Siggers Franklin, who was a gifted pianist and vocalist, died when Aretha was just ten years old.
Young Aretha began learning to play the piano and sign by ear, and by age 14, would join her father on the road, performing such classics as "Precious Lord Take My Hand" as he delivered sermons at different churches on his gospel caravan tours.
At 18, the singer broke the news to her dad that she sought to sing pop music like the swoon-worthy, inimitable Sam Cooke.
The minister gave his blessing, agreed to be her manager, and by 1960, helped Aretha landed a recording deal with storied label Columbia Records. By 1968, she had become a household name with such iconic hit songs as "Respect" and "(You Make Me Feel Like) A Natural Woman."
That same year, Franklin delivered a heaven-and-earth moving performance of "Precious Lord Take My Hand" at the Dr. Martin Luther King, Jr.'s memorial service.
Three Presidents and a Queen
Having performed during three U.S Presidential inaugurations—that of Jimmy Carter, Bill Clinton and Barack Obama—and holding the distinction as the first woman to be inducted into the Rock and Roll Hall of Fame (1987, one year ahead of the Beatles), Franklin and her exquisite command of piano and voice are essential threads of the fabric of American art and culture.
How fitting it is then, that at age 52 in 1994, Franklin became the youngest recipient (of her time) of a Kennedy Center Honor. Just over a decade later in 2005, President George W. Bush bestowed the prestigious Presidential Medal of Freedom upon the artist. In 2014, Harvard University conferred an honorary degree of Doctor of Arts on Franklin for her contributions to music.
As musical tastes and genres evolved through the years, Franklin's timeless talent found new shine throughout the 1980s, 1990s and beyond in such hits as post-disco R&B dancefloor burner "Jump to It" and smooth R&B/soul sass of "Who's Zoomin' Who," produced by late R&B legend Luther Vandross at the recommendation of esteemed record label executive Clive Davis.
She gave fans the fun and feisty pop-rock of "Sisters are Doing It for Themselves" with Annie Lennox, the rocking, neo-Motown Sound of "Pink Cadillac" with the late George Michael. Franklin went on years later to more acclaim with "A Rose is Still a Rose," produced by hip hop superstar Lauryn Hill.
And Still She Rises: Nessun Dorma
But of all the genres Aretha Franklin has touched along her journey, no turn so stirred an audience as her impromptu performance of opera gem "Nessun Dorma" at the 1998 Grammy Awards.
A mind-blowing surprise to many, Franklin stepped in for Luciano Pavarotti (who reportedly had to bow out at the last moment), delivering this definitive composition with show-stopping marvel and grace. Franklin's world-renowned performance of "Nessun Dorma" remains one of the top musical performance moments in television history.
Close runner-up, though:  Aretha and of her queen swag gliding across the stage on the Kennedy Center Honors special in 2015 in a "Natural Woman" tribute to singer-songwriter Carole King in her fur coat, sitting down to the piano to play, tossing her pocketbook aside, and taking all of America to church again—still, in her fur coat.
As recently as 2017, Franklin hit the Billboard charts once again this past November, this time with the Royal Philharmonic Orchestra on the album A Brand New Me. Using revisiting her archived past recordings, the collection rose to number 5 on the Top Classical Albums chart. S
he announced her retirement from touring in that ame year Aretha Franklin married twice, first in 1961 to Ted White for eight years, and later to Glynn Turman in 1978 for six years. 
She has four sons: Ted White Jr., Kecalf Cunningham, Clarence Franklin, and Edward Franklin. She is survived by her family, legions of artists whom she continues to inspire, and generations of fans, all of whom will continue to celebrate the original Queen of Soul's once-in-a-lifetime talents for decades to come.